Scholarships
RCW 28B.15.558
Waiver of tuition and fees for state employees and educational employees.

(1) the governing boards of the state universities, The Evergreen State College, and community and technical colleges may waive all or a portion of the tuition and services and activities fees for state employees as defined under subsection (2) of this section and teachers, other certificated instructional staff under subsection (3) of this section, and K-12 classified staff under subsection (4) of this section. The enrollment of these persons is pursuant to the following conditions:
(a) Such persons shall register for and be enrolled in courses on a space available basis and no nw course sections shall be created as a result of the registration;

(b) Enrollment information on persons registered pursuant to this section shall be maintained separately from other enrollment information and shall not be included in official enrollment reports, nor shall such persons be considered in any enrollment statistics that would affect budgetary determinations; and

(c) Persons registering on a space available basis shall be charged a registration fee of not less than five dollars.
(2) For the purposes of this section, "state employees" means persons employed half-time or more in one or more of the following employee classifications:

(a) Permanent employees in classified service under chapter 41.06 RCW;
(b) Permanent employees governed by chapter 41.56 RCW pursuant to the exercise of the option under *RCW 41.56.201
(c) Permanent classified employees and exempt paraprofessional employees of technical colleges; and
(d) Faculty, counselors, librarians, and exempt professional and administrative employees at institutions of higher education as defined in RCW 28B.10.016.

(3) The waivers available to state employees under this section shall also be available to teachers and other certificated instructional staff employed at public common and vocational schools, holding or seeking a valid endorsement and assignment in a state-identified shortage area.

(4) The waivers available under this section shall also be available to classified staff employed at K-12 public schools when used for coursework relevant to the work assignment.

(5) In awarding waivers, an institution of higher education may award waivers to eligible persons employed by the institution before considering waivers for eligible persons who are not employed by the institution.

(6) If an institution of higher education exercises the authority granted under this section, it shall include all eligible state employees in the pool of persons eligible to participate in the program.

(7) In establishing eligibility to receive waivers, institutions of higher education may not discriminate between full-time employees and employees who are employed half-time or more.
[ 2016 c 233 § 18; 2015 c 55 § 221; 2007 c 461 § 1; 2005 c 249 § 4; 2003 c 160 § 2; 1997 c 211 § 1; 1996 c 305 § 3; 1992 c 231 § 20; 1990 c 88 § 1.]
!
---


Pipeline for Paraeducators Conditional Loan Scholarship
The
Pipeline for
Paraeducator Conditional Loan Scholarship Program (Parapipeline Program) provides financial support to classified instructional staff, with at least three years of classroom experience, to pursue their Associate of Arts (AA) degree in order to qualify, enroll in, and complete a two-year Alternative Route 1 program
at a participating university to obtain a residency teaching certificate
. The AA degree must be direct transfer, qualify candidates to earn an endorsement in a subject matter shortage area, and be obtained through a community or technical college in no more than two years from the award date.
This program is administered jointly by the Professional Educator Standards Board (responsible for selecting recipients) and the Washington Student Achievement Council (responsible for distributing awards). Funding for this program is dependent upon annual budget appropriations from the Washington State legislature. The state laws establishing this program include the RCWs on the Pipeline for Paraeducators (
28A.660.042
) and Conditional Scholarship Programs (
28A.660.050
). Paraeducators must submit complete application materials to be considered for an award.
?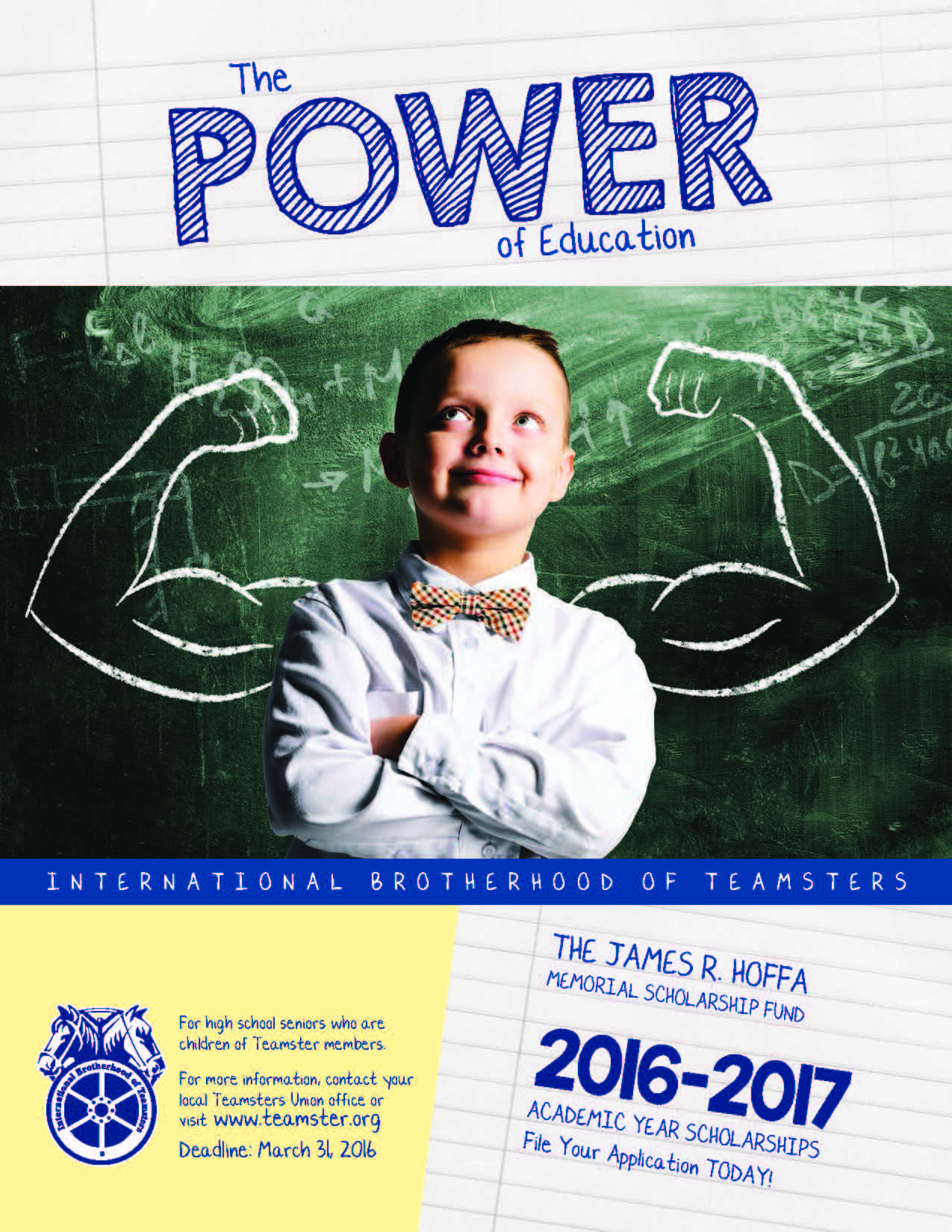 About James R. Hoffa Memorial Scholarship Fund
James R. Hoffa became a Teamster member in 1934 and served as General President for 14 years, and, in recognition of his tireless service to the union and its members, was honored as General President Emeritus for life. At the November 1999 General Executive Board meeting, then-General Secretary-Treasurer C. Thomas Keegel presented a resolution to establish the new scholarship fund. This site describes the James R. Hoffa Memorial Scholarship Fund (JRHMSF) and outlines eligibility requirements and application procedures.
The James R. Hoffa Memorial Scholarship Fund is an independent organization established and registered as a tax-exempt entity under Section 501(c)(3) of the Internal Revenue Code. The Fund is established solely to provide scholarships to the child or dependent of a member of the International Brotherhood of Teamsters, and contributions to the Fund are deductible as charitable contributions to the extent permitted by law.

Click here for PDF instructions and application.
Page Last Updated: Mar 16, 2018 (15:19:11)